SportingBet are providing new customers with a total of £100 in free bets.
How to use this betting offer
SportingBet are offering £100 in free bets which works by recieveing a maximum of £25 free per week for a total of one month (£25 x 4). YOu free £25 is topped up every Tuesday by SportingBet. The bonus is receieved by staking £25 each week and then your bet being matched for free.
To collect your free bet on Tuesday's you must email admin@sportingbet.com each Monday along with your username and your account will be updated the next day. You must use the free bets within that week. Note that Aualifying bets must be made at odds of a mimimum of 4/6.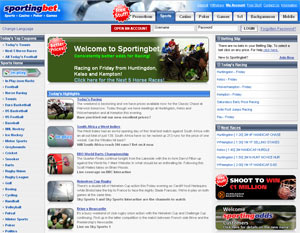 Offer Amount: £100 (£25 x 4)
Offer Type: Free Bet
Minimum Amount: £10
Offer Ends: Unknown
Valid For: new customers only

Example usage:
[£25 >> £25F] x 4