Collect £200 from CanBet when signing up using their free bets and bonus offers.
How to use this offer
From CanBet you can receive a maximum of £200 in free bets. They basic offer however is a £30 free bet, to get this use the promotional code FREEBET at the point of signing up. To collect this £30 you only need to deposit £20.
To collect the full £200 bonus you need to make a full deposit of £6000 and use the promotional code HIGHROLLER at he point of sign up. Free bets must be selected from the Free Bet menu within the CanBet panel.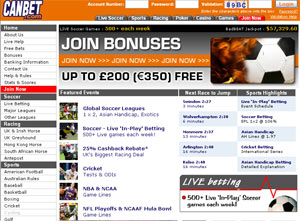 Offer Amount: up to £200
Offer Type: Free Bet and Bonus
Minimum Amount: £20
Offer Ends: Unknown
Valid For: new customers only

Example usage:
[£20 >> £30F] or
[£6000 >> £200F]