Introduction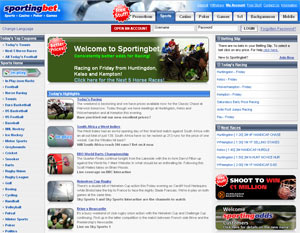 Sporting Bet is another company which has over a decades worth of experience to call upon and this shows in the strong offering of support they provide customers. Sporting Bet claim to receive over one million bets each and every day and this indicates that there are a lot of users who frequent this website.
Markets At SportingBet
All of the big sports are included here and there is a reasonable amount of selection with regards to options. Some of the smaller or quirkier sports featured on other sites may not be included here but the majority of options a person would really want are available. Live in play gambling is available on many European and American markets which means that whenever you want to bet, there is likely to be something available.
This is great when viewed alongside many other sites and should keep visitors coming back, as will the graphics and speed of the games. These options will endear the site to many non gamblers and should ensure people can while away a few hours and not have to gamble. The Casino section comes under the Paradise Casino umbrella and this offers in excess of 50 games for each user to choose from.
If this still isnít enough for you, there are backgammon games, you can play head to head versus people and there is the option of betting on the financial markets too. Sporting Bets really should have enough in their arsenal to keep most people satisfied.
Site Usability
This is definitely one of the better looking and working sites available and everyone should be able to utilise its facilities with ease. There is never a problem in determining where you want to go next and moving between sections is very simple.
There has clearly been a considerable amount of work placed into designing this website and users can easily find what they are looking for through perusing images or graphics. For many users who struggle when small text is used or even if you are in a rush to place a bet, this design can be extremely helpful. The main page is littered with a lot of summaries for items but once you reach the intended section, the page reverts back to a more traditional gambling site layout.
Free Bets / Bonuses
Something slightly different offered up by Sporting Bet is their £50 risk free bet. If you are a new member and you bet between £10 and £50 on a football match for the rest of September, you will be refunded if you lose. This gives a great incentive to join up with the site and place a bet where you just canít lose. There is also an opening offer attached to the Poker element where depositing at least 5 euros will provide you with a 100% matched credit bonus all the way up to the value of 500 euros.
Other Features
There is the option to choose between a great number of languages which makes this a site that is likely to be used all over the world. There is supposed to be a lot of free offers for customers but at the time of checking, the only thing up for grabs was the opportunity to win a holiday. This cant really be classed as a giveaway so there needs to be some questioning of the term Free Stuff.
The online video games appear to be of a fairly strong standard and there are playing for fun, bet credits or game credits available. It is also possible to play against other users and as the site can be accessed by users from around the globe this creates an extra dimension to the game. If this is not enough, Sporting Bet also provides mobile gambling options.