Expekt offer a £25 bet bonus for all new customers.
How to use this bonus
This offer from Expekt is valid for new customers only, and is not valid for multiples.
To make use of this offer simply create a new Expekt account and deposit and minimum of £10 in to your account. Next you will need to send an email to 35eurobonus@expekt.com along with your customer no and amount you deposited. Note that this is a 100% bonus up to €35 / £25. You will receive your bonus within 48 hours after sending the email.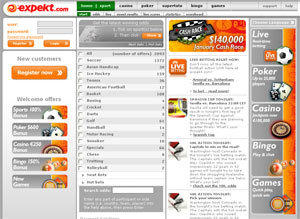 Offer Amount: £25
Offer Type: Bonus (100%)
Minimum Amount: £10
Offer Ends: Unknown
Valid For: new customers only

Example usage:
[£25 >> £25F]