BetVictor offer a £25 bet bonus for all new customers.
How to use this bonus
You take advantage of this offer you need to open an account with BetVictor and they will automatically match you first bet (with a maximum of £25) After placing 5 more bets with real money (minimum £10 each) BetVictor will give you another free bet, which matches your 7th bet (again with a maximum of £25. This is a great offer with a total of £50 (£25 x 2) available in bet bonuses for new customers.
Please note that to receieve the 2nd bonus of up to £25 you must have completed your 7th bet within 30 days of opening your account.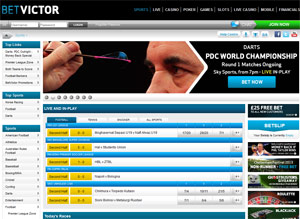 Offer Amount: £25
Offer Type: Bonus (100%)
Minimum Amount: £10
Offer Ends: Unknown
Valid For: new customers only

Example usage:
[£25 >> £25F]