Expekt Full Review
Introduction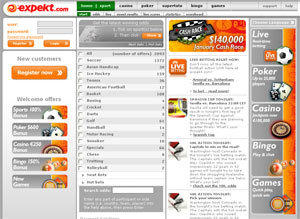 The first thing you see on the Expekt site is a map of Europe and China and the option of choosing between 25 different languages. Some people may see this as a handy tutorial in finding out bookmaker terms and odds from around the world. If you ever felt your child needed to learn fractions in Russian then surely this is the website you have been waiting on.
Expekt Markets
The counter that informs the user of how many markets are available to bet on at any given time indicated there were over 2,000 bets available and unsurprisingly, the vast majority were dedicated to football. This is to be expected although it has to be said there was a strong amount of minor league football on offer. A nice touch was the "Hot Bets" section which indicated what bets were popular on that day and will probably entice people to follow the crowd and place additional bets. Aside from the Sportsbook options, there are Casino, Bingo, Poker and Games to play and enjoy. An extra element is brought by the Supertoto and Superscore sections where gamblers can win big with low wagers as long as they can predict a large number of outcomes. Many people like this small bet because it only ever needs to pay off once to be worthwhile.
Site Usability
You are struck by the colour of the Expekt website and it is not your usual website offering but the site moves smoothly between its different offerings. As you would expect from a site that is very continental, a lot of graphics are used to help users see what they need instantly. The site also provides an in-depth FAQ section which should answer many queries and there is the option to email the firm with Expekt stating will be read within an hour. For new users of the site, the "First bet" video option is an extremely useful tool to allow people to familiarise themselves with the way to place a bet on this site.
Free Bets / Bonuses
A 100% free bet up to a value of £25 is o offer from the Sportsbook section, a 100% free bet up to $600 is the enticement from the Poker section and this is added to with an introductory free roll bet worth $1,000. New users of the Casino section can earn up to 250 euros in a 100% match and new users of the Bingo section have a 100% bonus up to 150 euros. Introductory bets are fairly standard amongst websites these days but the variety on offer from Expekt is well worth checking out.
Other Features
After all these options, Expekt do not offer much else in the way of additional features but live scores and results are on offer for anyone wanting to keep up to date. A fairly comprehensive statistics section is provided and there is a calendar to keep all members up to date with forthcoming sporting events. The amount of features offered by Expekt may be hampered by the number of languages and countries it serves but there is little doubt that Expekt is a quirky site well worth visiting
Top 5 Bonus Offers
T&Cs Apply, 18+
£40
0
All Bets and Offers
£40
£30
£100
£10
£25
0
£100
£200
£25
£20
£25
€30
€25
£25
£20
10%
100%