Introduction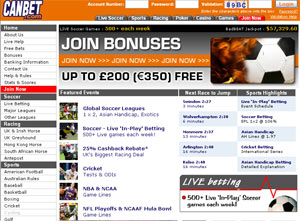 With over a decades worth of experience Canbet users can rest assured they are dealing with a company with a lot of experience which is just as well as there is not a lot of information to be gleaned about the company on the site. This lack of some information and other little matters gives the impression that Canbet is slightly lacking the professional touch that many of its rivals offer.
CanBet Markets
All of the major sports were offered by Canbet but there was not a lot beyond this. If you only want to bet on sports this will not be an issue but if you like the odd flutter on whatever is available, you may find your options limited.
As per usual, football fans are well catered for and the lower leagues are featured strongly on the Canbet site. Sadly the match options are not as varied as many rival sites but the number of horse racing and greyhound racing options should be large enough for even the most excited of users.
Where a large number of sites are making inroads to new customers is through the inclusion of other games but these are hard to come by on the Canbet site. Selecting the Games section brought back just the one game, which is clearly a disappointment. The Poker and Casino sections have more variety than the Games element but when compared to other sites, there is a definite reduction in options offered by Canbet. A lack of Lotto or Bingo options will be a major disappointment for many users and the requirement to install a Flash Player to take advantage of the Casino and Poker elements is always unfortunate.
Site Usability
There is a lot going on in the Canbet site, which has its plus points. The right hand side of the main pages has a blank space which means the rest of the information is crammed into a smaller space. When you consider the remaining layout follows the pattern of the majority of betting sites, it is easy to see that the Canbet site has a lot less room to deal with. The left hand side of the screen is where you will find most of the betting options and there is a good live chat facility to assist you with any problems you may come across. Once you become adjusted to the Canbet site it can be navigated easily but it takes a little getting used to.
Free Bets / Bonuses
Canbet offers the chance for £200 in free bets which we feel is a generous offer here. Okay, the majority of sites offer this type of deal but pehaps not to this high amount. Clicking on the banner informing you of the £200 offer brings you to the registration page with no more details being supplied. Hunting around the site lets you know that the bonuses are given in a range of percentages and these differ depending on how much is deposited. There is also a requirement to place a password to receive these benefits, which was a bit of a shame that these bonuses are not applied automatically. To obtain the full £200 in free bets, over £680 must be deposited.
Other Features
Canbet offer a range of money back options on a number of their bets and the site claims to offer better odds / lower prices than any rival website. The website may be lacking in ideas but if this claim about the lowest odds is true, it may be a reason to use the Canbet site on occasions.