Introduction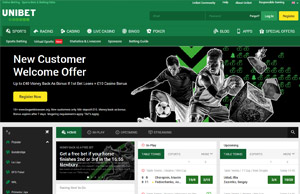 You can always tell that a betting site is a little bit different when you are given a choice of 26 different languages to choose from when entering a site. What is a bit strange though is when you see that there are two English versions but then you realise, one is for the country as a whole and the other is a dedicated Liverpool FC site. Perhaps this is the site for Liverpools owners to try and win money to get out of debt or be able to afford Gareth Barry but primarily, it will be of appeal to fans of the Reds. Both of the sites have the exact same style and mechanics so no matter what you choose, the same style of betting site is available to you.
Unibet Markets
It is good when the site has a counter to tell you exactly how many bets are available at any present time and when the Unibet site was checked, there was over 3,500 bets available. Over 1,000 were dedicated to football which is great for all the football lovers but it also provides a lot of scope for non football fans to bet on what they enjoy. There is definitely a decent balance on the site and further benefits come from the listing which indicates the live betting options that are available.
As with most other sites there is the option to get involved in Casino, Poker and Games but sadly there are no Bingo or Lotto options available to users of the Unibet site. What the site does offer though is a fine choice of Skill games and this allows users to play variations of Tetris, Breakout or Pool in addition to the standard games that are available on betting sites. And if that isnít enough, you can have fun with the scratch card options.
Site Usability
A lot of betting sites are becoming more user friendly but the Unibet set is definitely one of the easiest. The screen may be busy but the colours are well defined and there is still space to make out what you need. There has been a lot of thought put into the design of this site.
Free Bets / Bonuses
Search engine checks indicate that there are opening offers to be had with Unibet but perusing the home page gives no indication of what they are or where to find them. This is disappointing as even though the vast majority of firms offer the same sort of new deal, at least they offer some form of inventive to join up.
One bonus available is given to Casino players as all users have the chance to gain up to the level of 100 euros on a matched bet system.
Other Features
Gambling using a mobile phone is becoming extremely popular these days and the Unibet site offers this too. In addition to the mobile betting, users can check all range of scores, final results, and a whole host of statistics to further their betting pleasure.
Unibet also have an online shop where you can trade in all your Poker points for goodies from Unibet. There is a surprisingly large range of goods including old style football tops, electrical items and all you need to have a cracking summer barbecue.