Introduction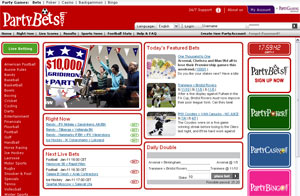 Party Bets is part of the Party Gaming chain of companies and is part of a group that has been providing gaming options since 1997. This provides over a decades worth of experience in the industry and allows the company to believe they provide a healthy range of gambling opportunities with a strong offering of international sports.
Markets At Partybets
Although most gaming sites offer a worldwide take on sporting events, there is a definite American feel to the Party Bets site. This means that lovers of American football, basketball and baseball are extremely well represented and they could find many intriguing bets. If you are not a fan of these sites your choices will be more limited as the remaining options are not as plentiful as can be found on other sites.
The footballing options provide the standard first goal-scorer bets and various match handicap bets. Like the Gamebookers site, there is also the option to play the financial markets and place a bet on which ball drops first in the UK national lottery.
The problem highlighted on the Gamebookers site where it seems as the Sportsbook is the only option available is repeated here and it takes some navigating to find additional gaming features. It is not until a user clicks through the Casino option on the right side of the screen that more opportunities are available. This is where options such as Keno, Bingo and a variety of games including table, slots and video games can be found. There is no doubt that casual visitors may feel there is a distinct lack of options on the site.
Site Usability
As Party Bets falls under the Party Gaming umbrella, it may not be a surprise to find that the site is very close to the Gamebookers site. One or two colours may be different but the layout and content is extremely close to its sister site. You can imagine Party Gaming thinking about their different sites and thinking why they should bother using two different styles and designs when one can be used in various ways. This saves the company money; it allows users of both sites to remain comfortable but it means that any limitations experienced by Gamebookers will also be featured here.
Free Bets / Bonuses
With a 100% matched bet up to the value of £25, Party Bets isnít going to win an award for innovation but it does stay in line with the vast majority of sites available.
Other Features
As there are not a lot of features available with regards to the main sections of a gambling site, it is too much to expect a lot more from the Party Bets site. People who appreciate football statistics may take a lot from the information compiled about the major leagues in Europe.
There is also a fairly well stocked sporting news archive which may be of interest to users but on the whole, thatís pretty much it for Party Bets. If you love American sports, there is a great reason to use this site but others users should approach with caution.