Introduction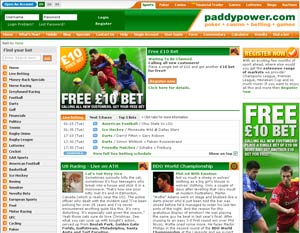 Paddy Power may be the largest bookmakers firm in Ireland but their fame and popularity stretches much further than the Emerald Isle. Having an online presence allows them to be reached by gamblers from all over and you will have probably heard of the numerous promotional activities and publicity stunts the site undertakes.
Quite often Paddy Power will pay out on events early, they offer a large range of cash back options on their bets and they try to show they have a sense of humour with regards to sport and gaming. There are many reasons why Paddy power stands apart from the vast majority of gaming companies.
Paddy Power Markets
There is a strong selection of sporting options available with Paddy Power and like most sites, a large amount of football bets are on offer. If you are interested in Irish sports these are strongly represented and as you can imagine given the humour the site attempts to inject, there are various novelty and fun bets to place. These can range from gambling on footballers being sent, the current crop of reality TV shows and even on Paddy Powers very own reality online show. This featured viewers watching eggs and placing money on which one they believed would hatch first. Its fair to say this form of gambling is not found on a great deal of sites and if this sounds like your thing then Paddy power is the place to be.
Site Usability
They may have a sense of humour that is different from many firms but the Paddy Power site utilises a layout that is extremely familiar to many gaming sites but the text is definitely a smaller size. For some people this is a positive aspect as it helps to cram more information into the site but for others, it makes the text hard to read. If having small text on a screen makes it hard for you to read then this site may offer some difficulties to you but the navigation is extremely simple. Users should also be aware that Paddy Power does not pay directly to all types of cards. In this instance, they will send a cheque out to the user when a withdrawal is made. This is different from many of the online firms and may provide some people with a reason for not gambling with Paddy Power.
Free Bets / Bonuses
The home page informs you that there is a £25 matched bet up for grabs that is available when you open your account with the site. Some members have found they can find a £30 matched bet option by searching the internet but the £25 option is definitely the standard one. This keeps the offer in line with the majority of gambling sites and similarly, options for Casino and Poker sections provide more free bets.
Poker players need to download software to be able to use this facility but after doing so, they are rewarded with $600 in sign up bonuses.
Other Features
Paddy Power has recently introduced a financial market for people to gamble on, increasing the options available to punters. There is also a strong selection of additional games such as Lotto, Bingo, Casino and Poker options available.
Many firms state they offer the best prices available but Paddy Power runs a best price promise which ensures they guarantee their punters the best chance of great earnings. This option means that whether you go with the early prices or choose the board price, whatever the best price is, you will receive that. If you like to bet a lot or you try to win big, this sort of option is ideal and could make a noticeable difference to your winnings.