Gamebookers Review
Introduction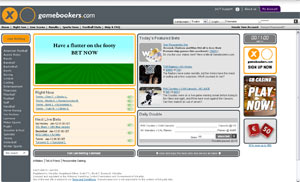 Gamebookers first came into being in 1998 which means this year is the tenth the company has been offering gaming options for the online community. In 2006, the PartyGaming network took over Gamebookers and have been responsible for running the site ever since.
Markets At Gamebookers
If you are a fan of American sports then you will find a lot to like about the Gamebookers site as the front page has a large focus on baseball and American sports. The American theme continues in the Sportsbook although a wide range of sports are covered. With regards to the football offering, the usual selections including first to score or scoring handicaps are included. If you are interested in the financial trading element, this is catered for as it the opportunity to gamble on which ball is drawn first in the UK lottery. This is not an obvious addition to the site and it has to be found in the Sportsbook as opposed to being a main feature.
Due to the layout of the site, it initially looks as though users only have the Sportsbook option to wager on but there is a Casino graphic placed on the right of the screen. After clicking on this icon, a whole new section is opened up and slot games, table games, video game and Keno and Bingo can be found. The addition of these games offers a lot more to the site but the fact they are hard to find can make it seem like the site is rather barren on first look.
Site Usability
The home page of the Gamebookers site is extremely busy and there is a lot to view on first glance. With moving images, ticker tapes rolling across the screen and graphics, it can take some users by surprise. This is not what is offered by the majority of betting sites and the differences become stronger when you realise there is not a selection bar sitting at the top of your screen. If you are accustomed to other websites, this can be a surprise. There is a helpline for users and an email system to hopefully sort out any problems that users may experience.
Free Bets / Bonuses
The 100% matched bet up to a value of £25 is not much different from the majority of sites but at least you are given an incentive to place your first deposit with Gamebookers. Due to almost ever present offer of free and matched bets, they are only really becoming noticeable if they are not offered. In this regard, Gamebookers does nothing to drive potential customers away.
Other Features
As it was so hard to find the gaming section on Gamebookers, it is probably too much to expect much in the way of additional features. For those people who appreciate football stats there is a collection of data for every major league in Europe and there is also a holding of sporting news. These offerings may seem little when compared with other sites but depending on your requirements from a gaming site, Gamebookers may be just what you are looking for.
Top 5 Bonus Offers
T&Cs Apply, 18+
£40
0
All Bets and Offers
£40
£30
£100
£10
£25
0
£100
£200
£25
£20
£25
€30
€25
£25
£20
10%
100%