Introduction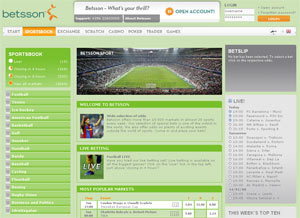 Back in 2001, Betsson was founded and their website was released to the world in May of the following year. It did not take too long for the exchange feature to be included on the website and the site has not stopped evolving or changing ever since. The Betsson website is available in many languages and there is no doubt that this site offers a cosmopolitan and different style of online gambling. The site looks tremendous and clearly time and effort has gone into its layout and design. When examined alongside some of its current peers, the difference in style of the Betsson is night and day in relation to Betfred or Bet365. Another great issue is the graphics and features in the Casino or Poker sections which are enjoyable to watch and add another dimension and reason to use this site.
Betsson Markets
There is a counter available on the Sportsbook section which tells you how many markets there are to bet on at that particular moment in time. At the point of checking, 4,500 markets were available and a massive 4,100 of these were focussing on football bets. This makes Betsson an ideal place for any football fans to check out. Given the global appeal and image of this site, it was perhaps surprising that more sports were not featured more strongly but there should still be enough to keep everyone interested. It is unlikely that anyone will be left wanting more from the football options as the Slovakian League or the second division of the J League in Japan are all featured here.
As mentioned, Betsson also provide an exchange system and these offer a similar service to the other exchanges already operating. There are also scratch cards, Games, Trading options, Bingo, Poker and Casino options to impress users and this means Betsson is able to offer gaming opportunities to many people.
Site Usability
However, as the site uses so many modern design elements, it may be uncomfortable for some users to comprehend. A new user will be bombarded by a lot of information to take in and there are impressive visuals appearing on each page. This can easily distract a user but over time, the quality of the site starts to come through. It is extremely quick and easy to move between pages and sections and with only a few hours use; people will be navigating the site comfortably.
Free Bets / Bonuses
Where Betsson was probably let down is the fact that no opening offers could be found. Using a search engine to check for free offers on the site brought up some links but when these links were clicked through, the user was brought to the welcome screen with no indication of any offer being available. Perhaps at the time of checking there were no options available but given that virtually every site provides an introductory incentive, this does not look too good.
Other Features
A points service which allows users to earn points each time they gamble with their own money can eventually be traded back for real money, in a situation similar to receiving cash back. This is the most impressive feature offered by Betsson aside from the sleek look and design of the site. If it matters what your gaming site looks like, this is the site for you.