Introduction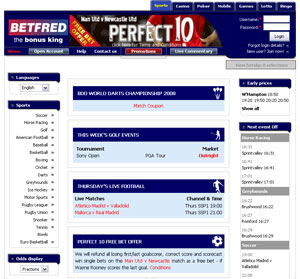 With a history dating back to 1967, Betfred has a genuine history in this industry and can point to having over 700 stores in the United Kingdom. Many more people are familiar with the company's online presence and Betfred state that they are the largest privately owned gambling company in the world. Awareness of Betfred has increased largely due to their partnerships with Manchester United and Wembley Stadium.
Betfred Markets
It may be just under two years away but Betfred have already opened their book on the 2010 World Cup and there is no doubt that there are a vast number of football related bets available at Betfred. There are many specialist betting options that can not be found on any other site including League winning doubles for the Spanish and English leagues or individual bets regarding the big four in England. These are the type of bets that really appeal to football fans and it is no wonder that Betfred have engineered a reputation for being known as the football fans gambling site.
It is fair to say that the complete range of sportsbook options offered by Betfred does not match those of some of their rivals but there is definitely enough to satisfy the vast majority of online gamblers. Betfred may not appeal to those who want to gamble on anything but there are a lot of simple options and choices to gamble on that will appeal to many.
What Betfred possibly lacks in sporting options it more than makes up for with regards to other features. As is the norm these days, Poker and Casino options are freely available as is the option for Bingo. What Betfred offers that many sites do not are a range of Lotto options and people can play on the Greek, German, French, Spanish, Canadian, 49s or Irish lottos with the website. All of these options should keep everyone more than happy.
Site Usability
Betfred is extremely easy to find your way around and there are no great difficulties associated with using the site. All of the labels and headings are easy to read and the method of placing a bet is the traditional online style. There is nothing flashy or attention grabbing about the Betfred site but this allows for simple use and will allow any user to move about quickly, which is really handy for live betting when a split second can make all the difference.
Free Bets / Bonuses
It is possible for members signing up with Betfred to pick up £100 in free bets. Your first bet will be matched up to £50, after this the user needs to place five deposits of a value more than £10 each in order to qualify for another £50 bet.
If you use the Casino and Poker elements of this site, you can pick up some free bets from here. Betfred offers its users a signup bonus of 100% with a limit of £100 on the Casino games and the same offer is now available for the Poker element too.
Other Features
Betfred provides a number of additional features which help customers come back on a regular basis. Some of these offers include bonuses for providing referrals, offering people 10% of their casino losses on the 13th of a month in addition to a whole host of bingo deals. There is the facility to gamble via a mobile phone and various sporting commentary and radio shows are also provided.
Betfred, although clearly an independent bookmaker, offers many of the traditional features of the major sites whilst maintaining its individual style quite comfortably.