Introduction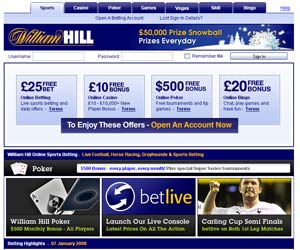 William Hill is one of the most famous names in the bookmaking industry and this is no surprise given its origins date back to 1934. There are not too many firms who can boast of a history like this but the company has continued to move with the times and its website is a fair reflection of that. There will be some gamblers who are loyal William Hill customers but the site is definitely attractive to all people and no doubt has helped the company gain a lot of new business.
The Markets
It may lack the complete variety that bet365 is able to offer but William Hill offers all the mainstream sports and more in their Sportsbook section. There is also a fairly comprehensive live in play section, which again, may not be as large as some sites, is certainly bigger than the average online gambling site.
Like many sites, William Hill provides Games, Poker and Casino options to its users but also provides a Vegas section, hosting roulette games and other features you may expect in the Casino element. This can be slightly confusing but nevertheless, it provides something else for people to examine and the Live element is noteworthy. William Hill also provides a bingo element which will keep fans of that growing market happy.
Site Usability
The graphics and logos may be chunky and a bit carton look but everything on the site stands out really well and it is a very easy site to navigate around. This helps if you are in a rush to place a bet and need to find your section in no time at all. The brand colours of William Hill form the backdrop of the site and this is slightly dark but there should not be any problems with using this site.
Free Bets / Bonuses
The Casino offer is not as straightforward as many sites but it does offer the potential to earn up to £10,000. This requires a large amount of aggregate bets but if you are a frequent user, this option may be a huge incentive for joining up with this site.
New entrants in the Poker market are also offered an incentive and anyone who downloads this game will be given free bets up to the value of £250. In addition to this incentive, there is the option to earn up to £100 every month through using William Hills Poker software.
It is clear that William Hill are trying to offer an alternative when it comes to offers and it may be enough to entice in users.
Other Features
Users can choose from a few currencies when they are applying so if you wanted to use dollars or euros as opposed to sterling the option is available. How many people take it up is unclear but at least it an option.
William Hill provides a variety of viewing options and gamblers can keep up to date with BetLive TV, Greyhound TV and Racing TV. There is also a mobile phone betting facility provided by William Hill which is handy for all the gamblers on the move.