Introduction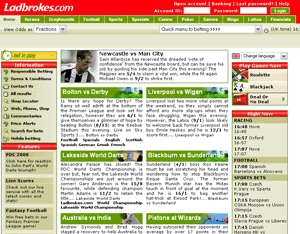 The story of Ladbrokes harks back to the 19th century and 1886 was the year the company came into being. To this day, Ladbrokes remains at the forefront of the gaming industry and has recently moved into China. Clearly, the Chinese market could be extremely lucrative for companies and Ladbrokes have signed an agreement with the Chinese Government to introduce outlets that will allow people to gamble on the lottery run by the state. There has been no indication if Ladbrokes will be welcomed with an online presence in China but this move is an indication of the high regard Ladbrokes is held in.
Markets On Offer
As you may expect, the main focus of the Ladbrokes sport options are based around the big three of football, horseracing and greyhound racing but all of the major sports are featured here. For the majority of users of the Ladbrokes site, the main three sports would be reason enough to use the site so the option of many smaller sports is merely an additional bonus. One instance where Ladbrokes offers a different option is their fantasy football game which allows people to win up to £1,000 in bonuses.
Ladbrokes are also keen to highlight the amount of special bets they have on their site which makes it a perfect place to visit if you would to place money on reality television shows, elections, TV awards shows and even Poker tournaments. A successful site will have little features that help differentiate it from its rival and the Ladbrokes site offers a few.
Lotto options have become increasingly popular and important on gaming sites and Ladbrokes has a wide selection to choose from. Visitors to the Lotto section can experience 49s, the New York Lottery, the Spanish Lottery and the Irish Lottery. There are also Matchball options and the chance to play the football pools. Matchball is not a feature that is found on many sites and users need to choose 11 numbers ranging from 1 to 49. These numbers relate to football matches occurring over a weekend and punters need to aim to get as close to 24 points without going over. 3 points are awarded for a scoring draw, 2 points for game with no goals and 1 point where a match is won.
There is also a large selection of games on the Ladbrokes site and these can played for fun or for cash. With a financial market available as well, there are many options for even the most hardened of gambler on the Ladbrokes site.
Site Usability
It is inevitable that Ladbrokes will be compared to Coral or William Hills and it has to be said that the other two firms have a website that is easier to use. This is noticeable with the live in play options and is slightly trickier to use. The Ladbrokes site stands apart from many of the other commonly used gaming sites and this means it is initially uncomfortable for new users to move around.
Bonuses
It is subject to the standard terms and conditions but new users can pick up a £25 opening offer with Ladbrokes. Similarly, new entrants to the Casino or Poker elements on the site can earn up to £200 in deposit bonuses, increasing the incentives to sign up.
Other Features
A number of sites are offering Podcasts for users and the Ladbrokes one has the opportunity to win £50 in bets to use on the site. Horse racing commentary is provided and there is coverage of American horse racing. Given that Ladbrokes is one of the major gaming chains in the UK, people would be let down if it did not offer a great deal of options. The Ladbrokes site certainly provided a lot but it may just fall short in the ease of use compared to some other companies.